Hi I'm Claire, this was originally a writing blog but now it's for all my art.
I made this bib for my niece. It only took me a few days.
Gay button! I changed my lambda pattern to fit the size of a button and put it together just now. It was my first time putting a button together, so the centering is a little off. But I like it anyway!
MY CROSS STITCHING BOOKS ARE COMING TODAY
I ordered three cross stitch books  with small designs so i can make something for my niece. I got two different types of bibs. Idk if they'll even want to use the bibs but still
I'm thinking about using floche?? I heard about it yesterday and I looked at a few different websites and it seems really cool. As much as I love floss, I could REALLY get used to some smooth, silky thread!
Also I might try out a satin stitch if I use floche. I've never done a satin stitch before because I cross stitch, not embroidery, but I'm sure it's still something people do on aida cloth?
Gay keychain heart! I made this with perforated plastic. I used 3 strands for the colors and then 6 strands for the white wrapping and edging. I used a single strand of wire for the handle and wrapped it with floss. It's on my keychain now!
Today on "Let's see how many gay symbols I can cross stitch without my parents saying anything!"
Pride symbol!! I designed this last night and started working on it today.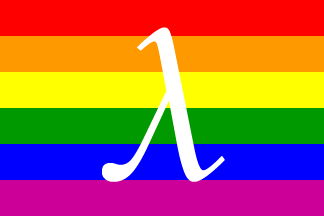 I think I'm going to make a pendant out of this by making a button cover. We'll see!
This is the oil painting I started a while back and my art teacher is making me finish. I can't tell you how much I hate doing landscapes. There is just…so much I don't care about. With animals I feel like I'm putting a soul onto paper but landscapes just feel blank and dull to me emotionally. I can't wait until this is finished so I can go back to painting animals.
Some genderqueer symbol cross stitch patterns! I made these for my friend. I used this and this for reference.
I accidentally put this on my main blog but I'm too lazy to redo it so I'm just reblogging
My very first pride bracelet! I used this guide to make it. The finish is rough, and maybe in the future I'll clean it up somehow, but right now I'm just really excited! It took me about 3 days to stitch and I just now put it together.
I was playing around with oil paints on the tablet and this happened